Milk Supply Dropping? Your Feeding Schedule May Be Why
This post may contain affiliate links (see full disclosure). As an Amazon Associate, I earn from qualifying purchases.
Is your milk supply dropping? Here's what you need to know about how frequently you should be nursing and/or pumping to maintain a strong milk supply, and why feeding schedules aren't a great idea for breastfed babies.
There are a lot of reasons a breastfeeding parent might find their milk supply dropping over time. Many assume that when milk supply decreases, it's because a breastfeeding parent "just can't" produce enough. But this is often not the case!
What They Don't Tell You About Breastfeeding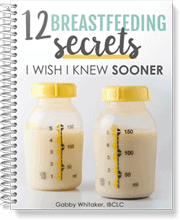 This is what they don't tell you in the hospital. Our FREE guide will give you 12 breastfeeding secrets that will help you avoid common problems down the road. 
Have you ever had a well-meaning family member, friend, or pediatrician tell you that you are letting your baby nurse too often? That baby should be going at least X hours between feeds? That baby is "just comfort nursing"? That you shouldn't "let your baby use you" as a pacifier? Or perhaps you were gifted a parenting book that recommends a specific feeding schedule?
The good news is, you don't need to worry about any of that advice! Here's why:
First of all, it can be extremely difficult to tell when a nursing session is for comfort or for nutrition. Most often, it's for both! Second, your baby isn't using you as a pacifier. They're using a pacifier as a you! Pacifiers are a substitute for the breast, which is why they're shaped like a nipple.
A pacifier is a tool, and using one isn't "bad." But using a pacifier to to space out feeds according to a schedule, or to keep baby from nursing as often as he or she cues to feed, can have a seriously negative impact on your milk supply (and sometimes on baby's growth and weight gain too!). In fact, researchers and breastfeeding experts recommend AVOIDING parent-led feeding schedules and using pacifiers to time at the breast (source).
To understand why, we have to first understand how the body knows when to make milk.
How Milk Supply Works
Think of the breasts like a factory with a warehouse. If the warehouse gets too full, the factory gets a signal to slow down milk production. But if you regularly "empty out" the warehouse before it gets full, the factory can produce milk continually.
If you have a large warehouse, you can hold more milk for a little longer before the warehouse gets "full," causing milk production to slow down. If you have a smaller warehouse, you're going to need to empty that warehouse more often to avoid it reaching capacity and causing milk production decrease. You empty your warehouse by nursing or pumping.
This concept is referred to as "milk storage capacity." It's the reason some breastfeeding parents can nurse or pump only 6 or 7 times a day and maintain a full milk supply, while others have to nurse or pump much more often to accomplish the same thing.
The "Magic Number"
Concept of "The Magic Number" credited to Nancy Mohrbacher, IBCLC, FILCA. Read more from her at NancyMohrbacher.com.
Having a smaller milk storage capacity doesn't mean you won't be able to produce enough milk. It just means you'll need to "empty your warehouse" more often than someone with a larger storage capacity. We call the number of times you need to nurse or pump (i.e. drain the breasts) in 24 hours your "magic number."
Please don't worry about trying to figure out what EXACTLY your number is. This "magic number" is more of a conceptual thing than a specific number you NEED to know. But if you must have a reference point, most people have a magic number between 8 and 12 (source), and if you have a newborn, aiming to drain your breasts 10 times in 24 hours is a safer bet than doing so only 8 times (de Carvalho et al. 1982).
And this part is important: You can't tell if you have a larger or smaller milk storage capacity just by looking at the size of your breasts!
This is because breasts are made of basically two things: fat and glandular (milk-making) tissue. Some small breasts don't have a lot of fat but do have a lot of milk-making tissue hidden in the chest. And some large breasts may have only a little bit of milk-making tissue but a lot of fat, which can make the breasts appear large despite having a smaller milk storage capacity. But remember: BOTH sizes of breasts are capable of producing enough milk over a 24 hour period as long as they are emptied often enough.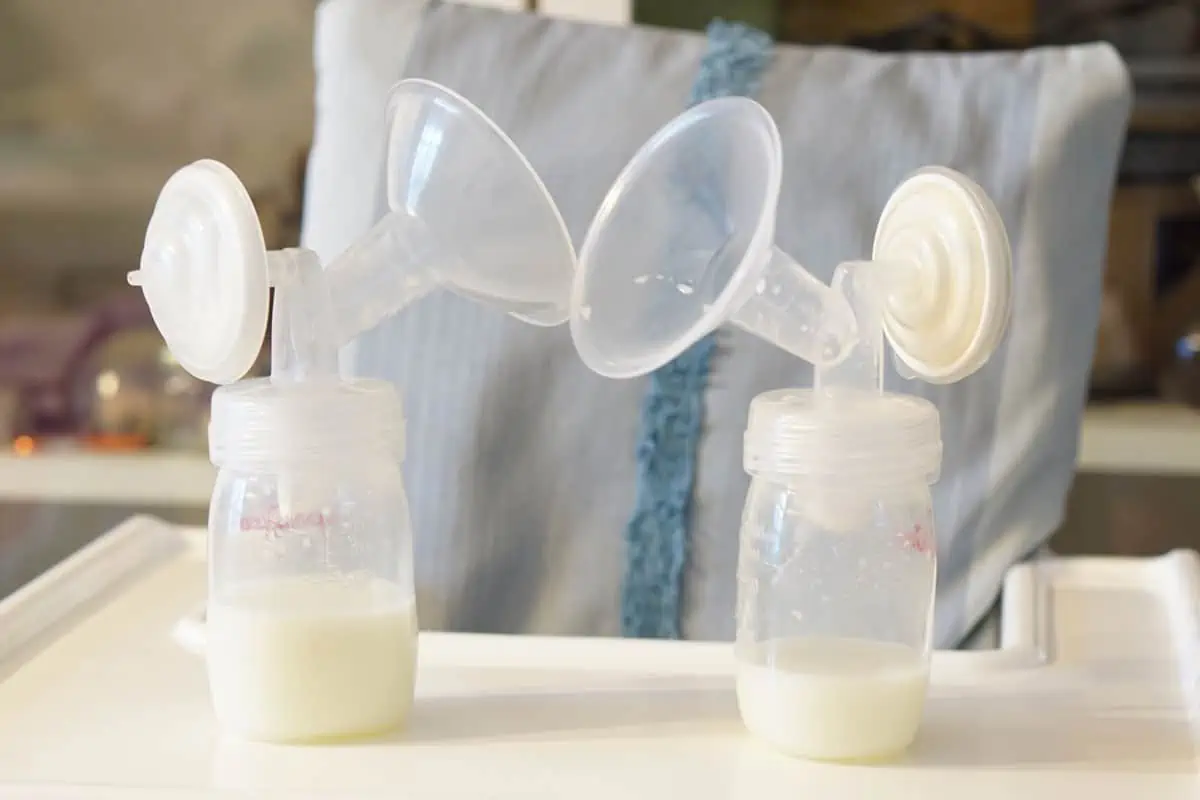 Why Parent-Led Feeding Schedules Are Not Recommended
The problem with parent-led feeding schedules is that they can mess with this milk production system. If the schedule you're following is having you drain your breasts less often than you need to in order to maintain your milk supply, your milk supply will decrease over time.
Sometimes the decrease happens right away and is obvious. But too often, the supply dip is slow and insidious, and you don't realize that the schedule you're following is causing problems until your supply has dropped considerably. Breastfeeding parents who find success with parent-led feeding schedules likely have a milk storage capacity large enough to accommodate the demands of the schedule. But not everyone has the same luck.
Sleep training methods that encourage early night-weaning or cutting out night feeds (which reduces the number of times your breasts are drained in 24 hours) can cause the same sort of supply problems parent-led feeding schedules do. Don't assume that every sleep training program that claims to be breastfeeding friendly actually is! In fact, most are not (for more info on infant sleep resources that are actually breastfeeding-friendly, click here).
If you're exclusively pumping or pumping at work, reducing your pump sessions over time (as some people recommend) can also cause milk supply issues. So can replacing nursing or pumping sessions with formula or too much solid food too soon.
This doesn't mean that pacifiers, formula or solid foods are bad! It just means you may need to take steps to protect your milk supply should you choose to offer them.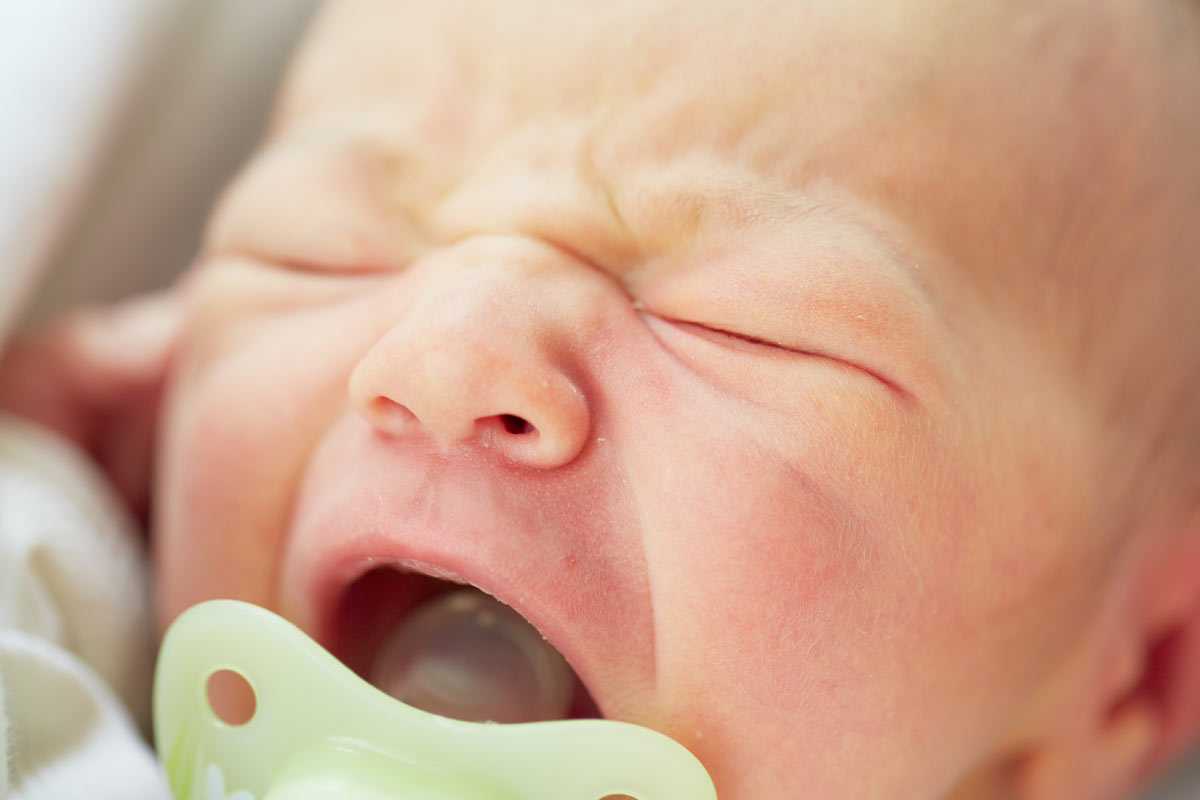 How Do You Protect Milk Supply?
Spoiler alert: The best way to protect your milk supply has nothing to do with lactation cookies, fenugreek, or drinking Body Armor.
Instead, you protect your milk supply by draining your breasts frequently and thoroughly. The very act of draining the breasts via nursing or pumping causes the body to ramp up milk production. And although it might seem like you can pump more milk if you wait longer between pumping sessions, waiting for the breasts to "fill up" actually sends a signal to your "factory" to slow down milk production!
Every time a baby with a deep, effective latch breastfeeds, your body gets a signal to produce more milk. If your baby does not have a deep, effective latch, or if your pump does not effectively stimulate and drain your breasts, milk supply can be affected. This will need to be corrected: No amount of lactation cookies will stimulate milk production in breasts that aren't being effectively drained often enough!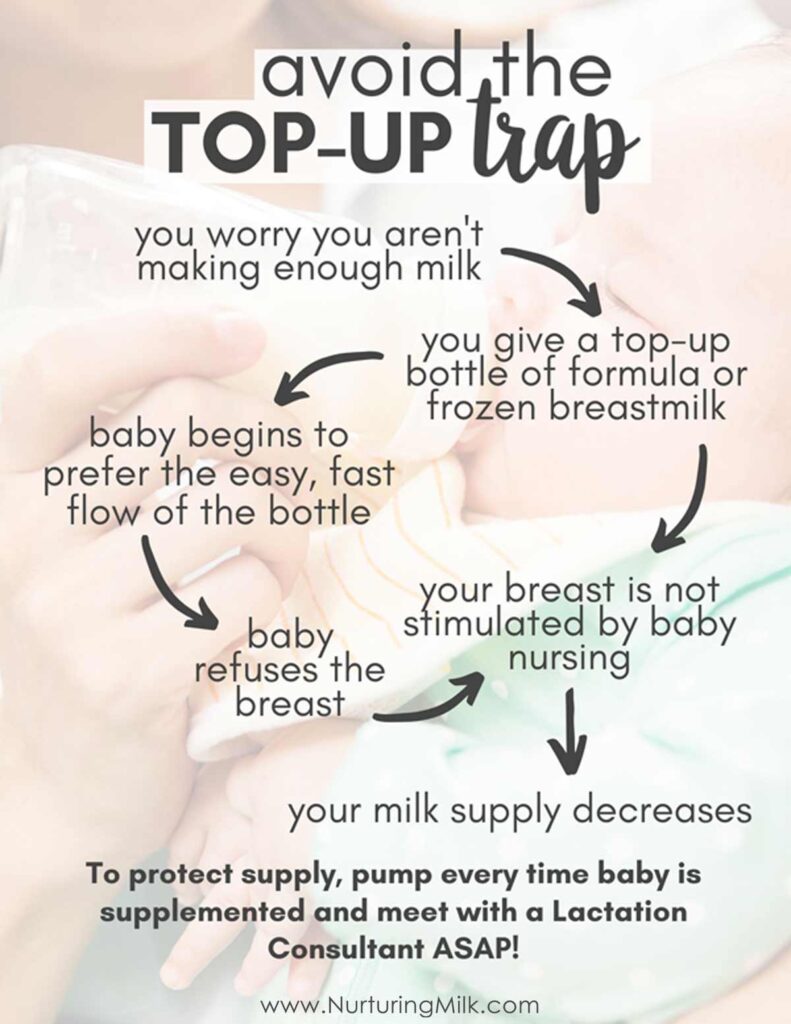 You can also protect your milk supply by being sure that you pump a full session (i.e. drain your breasts) every time baby gets a bottle of formula or frozen breastmilk. Babies with bellies full of formula or milk you pumped weeks ago aren't going to nurse as often, so pumping when baby gets a bottle helps send a signal to your body to keep up milk production in the meantime.
When To Get Breastfeeding Help (And Free Resources To Help You Now)
Milk supply problems can be upsetting, but they can also often be fixed. Getting help quickly, however, is extremely important! Especially if your baby is under 6 weeks old, since your milk supply gets established in those early weeks.
Any time you have or suspect low milk supply, when possible, I encourage you to seek qualified lactation support. Not everyone who claims to know about breastfeeding gives good, evidence-based advice, so I wrote this blog post to help you find good breastfeeding help, including free resources.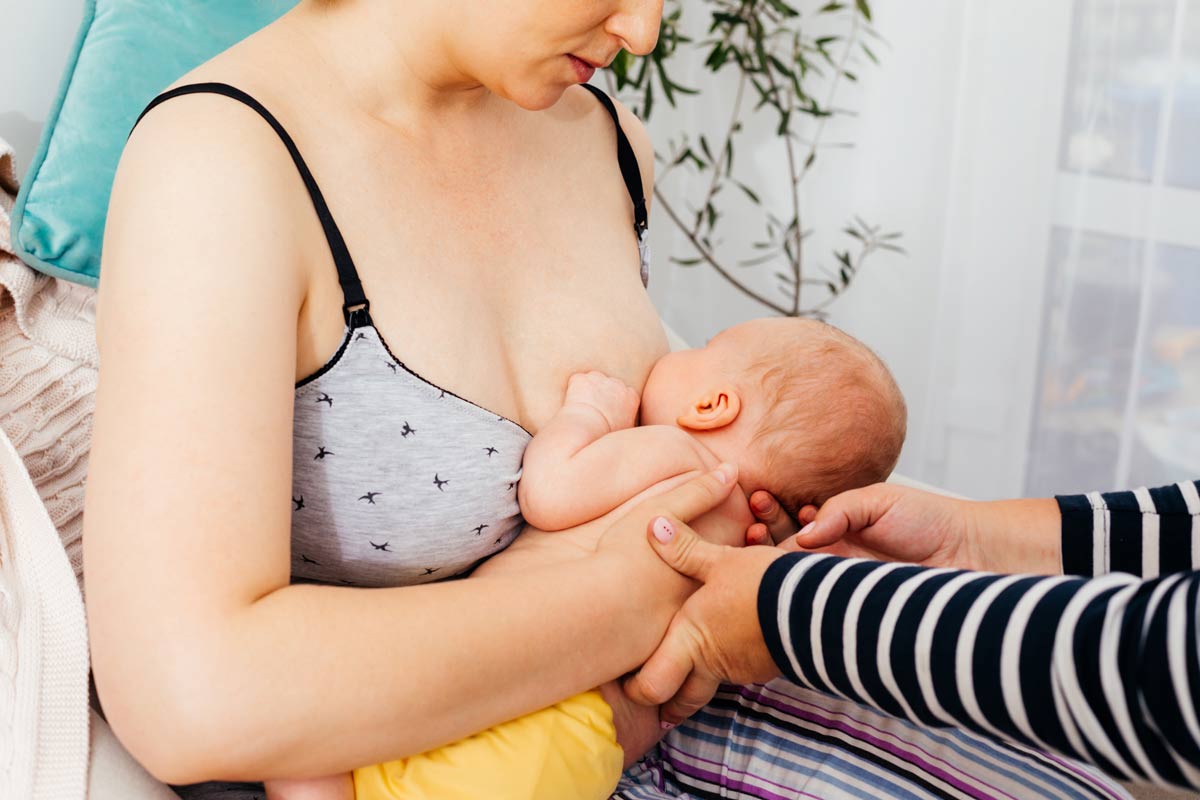 While you wait to be seen, use some of the information in this blog post to begin correcting issues that might be contributing to low milk supply. Consider how often you are nursing and pumping in 24 hours. If it's less than 8, consider adding a nursing or pumping session to your day. This post will show you how to tell if your baby has a deep, effective latch, and you can learn 5 proven tips to boost your pump output here.
If you feel like you're already doing all the things, there may be something else going on, hormonally or physiologically. Always be sure to bring any and all concerns to your and your baby's healthcare provider.
And remember that no matter what, you're doing an excellent job! There's no shame in using formula or adjusting your breastfeeding goals to make accommodations for your mental health! It's not all about the milk: Your needs matter too.
What They Don't Tell You About Breastfeeding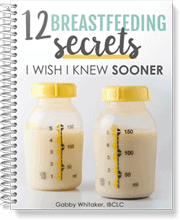 This is what they don't tell you in the hospital. Our FREE guide will give you 12 breastfeeding secrets that will help you avoid common problems down the road. 
If you enjoyed this post, be sure to check out our digital library of helpful resources that quickly teach how to avoid common breastfeeding problems and give you the peace of mind and confidence you need to meet your breastfeeding goals.
You Might Also Enjoy:
Additional Sources:
de Carvalho M., Robertson S, Merkatz R, and Klaus M. 1982. Milk intake and frequency of feeding in breastfed infants. Early Hum. Dev. 7:155-163.